Home Page
Sexual Assault Awareness & Prevention Month 2013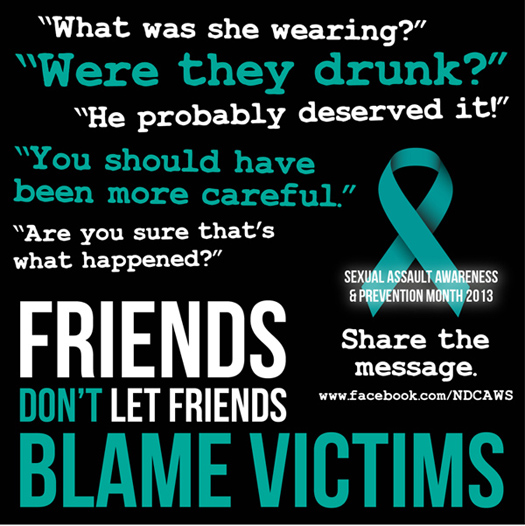 Friends Don't Let Friends Blame Victims Campaign
Debuting during Sexual Assault Awareness & Prevention Month in April 2013, our awareness campaign addresses how victims of sexual assault are often blamed for their traumatic experiences. It's up to us to start conversations about how harmful rape culture can be.
So what are we talking about when we say "rape culture" and "victim blaming?"
Rape culture: Being surrounded by images, language, laws, and other everyday phenomena that not only allows but justifies sexual violence. "Living in a rape culture" means that we are continually exposed to advertising, film, TV, music, and
online content that sexualizes and trivializes violence, especially violence toward women and girls. Sexual coercion and control seem so "normal" that people don't view rape as a shared problem to solve, but "just how things are."
Victim blaming: A cornerstone of rape culture, this common tendency relies on society's inclination to find excuses for the offender's behavior, usually by blaming the victim. Through comments about the victim being "dressed like that" or how
much they had to drink, attitudes of victim blaming tend to reinforce faulty beliefs, such as most rapes being false accusations or the idea that women's bodies have a way to "shut down" unwanted sexual contact.
Posted on 04/03/2013

This digital toolkit contains information and resources about CAWS North Dakota's anti-victim blaming campaign for SAAPM 2013: Friends Don't Let Friends Blame Victims. Find an exclusive Facebook cover image, printables, and more!

Posted on 04/03/2013

This ZIP file contains JPG images of the Facebook cover and meme images referenced in the Friends Don't Let Friends Blame Victims Digital Toolkit.