Home Page
Healthy Masculinity Summit: It's Everyone's Business!
Do you belong to an organization that influences the lives of many, including youth services, sports, the faith community, business, government, or education?
Have you been looking for ways to improve the lives of boys and men and promote a respectful and peaceful place to live, work, and play?
Join us on Oct. 1, 2013, for compelling conversations about healthy masculinity, a showcase of successful violence prevention projects, and a special World Café where we explore the relationship between masculinity and different aspects of society, such as media, athletics, faith, parenthood, and power.
The event is co-hosted by the Rape and Abuse Crisis Center of Fargo-Moorhead and CAWS North Dakota, the state's dual sexual and domestic violence coalition. Connect with us on social media to stay updated on the event.
To learn more and register for the Healthy Masculinity Summit: It's Everyone's Business, go to http://healthymasculinitysummit.eventbrite.com. A limited number of travel scholarships are available – please contact Stephanie Gerhardt at 701-255-6240 ext. 110 or sgerhardt@ndcaws.org for more information or to apply.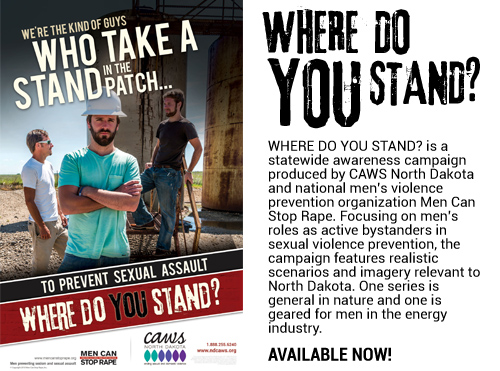 Where Do You Stand?
Posted on 07/20/2013

This info sheet details our statewide awareness campaign called Where Do You Stand? that focuses on men's roles as active bystanders in sexual assault prevention. Men can use their influence on their peers, friends, and family to support healthy forms of masculinity that incorporates caring and compassion into definitions of strength.

Posted on 07/20/2013

Our involvement in the NDHMAP Town Hall and the Where Do You Stand? Campaign is part of a statewide Healthy Masculinity Initiative, or HeMI for short. This information sheet will tell you more about our project and upcoming events!