Current Openings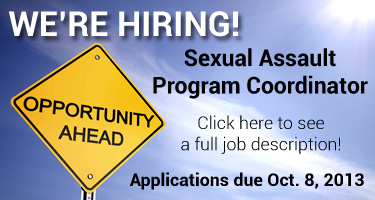 We're Hiring!
Sexual Assault Program Coordinator
Salary Range: $33,000-$44,000 + benefits
Classification: Full Time Non-Exempt
Applications due: October 8, 2013
Duties
• Manage statewide sexual assault program.
• Provide sexual assault training and technical assistance to advocates employed at crisis centers and community partners.
• Serve as the sex offender containment team advocacy coordinator. Includes acting as a liaison with the Department of Human Services and local crisis center advocates serving on the teams.
• Provide guidance and technical assistance to local communities in the development of sexual assault response teams (SART).
• Provide consultation to the PR and Communications staff to develop public education resources and materials related to sexual assault.
• Collaborate with Sexual Assault Nurse Examiner (SANE) network.
Qualifications
B.A. or B.S degree and at least two years of experience in sexual assault or related social justice or social service related field.
Experience in training curriculum development, training adults and group facilitation.
Exceptional organizational skills and ability to manage several projects at once.
Demonstrated understanding of sexual assault and related issues including service delivery for victims.
Excellent communication skills.
Self- motivated; able to work independently
Computer literacy.
Flexibility to do some traveling in state and occasionally out of state.
How to Apply
Send cover letter and resume by October 8, 2013 to:
CAWS North Dakota
525 N. 4th Street
Bismarck, ND 58501
701 or 888-255-6240
www.ndcaws.org
Click here for a PDF version of the Sexual Assault Program Coordinator job description.